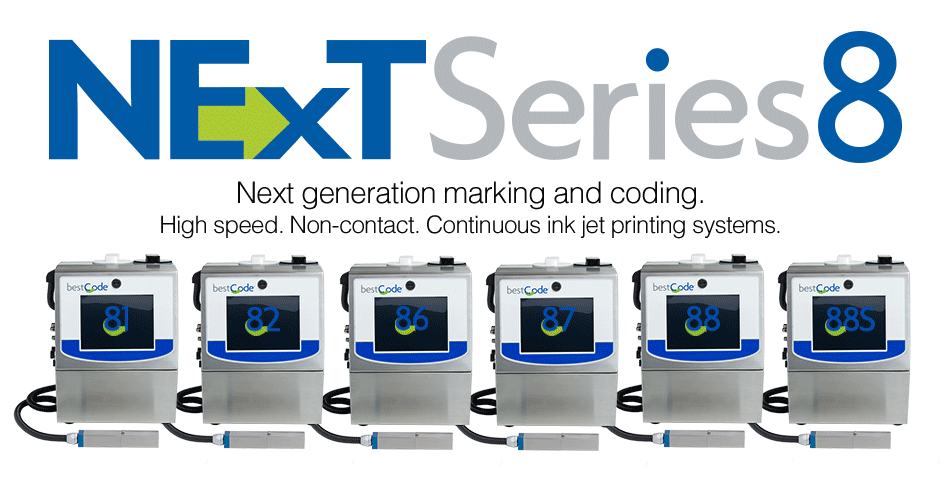 Next Series 8. A complete range of
small and large character printing systems.
Series 8 Continuous Ink Jet Printers print high speed, reliable lot/date, sell-by
date and other identifying marks and codes on a wide range of substrates,
including plastic, glass, paper and more. Follow us on LinkedIn for coding and marking solutions.
Simplify the user experience.
10.4" color LCD touch interface. Multiple operating languages,
designed for a global market.
Learn about BestCode's user interface

Minimize user interaction.
Operate multi-weeks/months between adding fluids. Large fluid operating capacities.
Start clean everytime.
Direct solvent injection ensures quick, trouble free startup.
EcoTec™ Fluid Management
Most efficient CIJ printer. Lower operating costs, lower cost of ownership. Environment friendly.
Learn more about BestCode's print features

Print Quality.
Exceptional, best in class print quality. Print text, graphics and bar codes. Unicode fonts and font edit tools built-in.
See BestCode's print features here
Print Fast. Faster and Fastest — 3 speed printing.
More BestCode design features

Fluids. Intelligent, large, quart ink and solvent bottles know their fluid type, and shelf life.
Learn more about BestCode's design features

State-of-the-art Electronics.
High performance, high speed,
and multi-tasking. Universal
print platform.